When you get this right, you'll see an instant boost to team morale
. . . and to the results you achieve!
Did You Know That the Best Way to Improve Employee Performance Can Also be Easiest for You?
If you knew there was one simple proven way to improve employee performance and boost workplace motivation and team morale would you want to know about it - and use it?
Well there is! And in just a moment I will share it with you.
But first, imagine what it would be like if everyone on your team contributed to their full potential.
I'm not just talking about poor performers lifting their standards - What if your very best people did even better ...
What if everyone on your team could do their work particularly well?
What sorts of results could you attain? What would it be like to lead a team like that? A team that everyone wanted to be part of.
If this is the sort of leader you aspire to be,
read on...
There IS one simple leadership tool you can easily apply that can allow you to achieve all this and more.
So what is this tool? Coaching. When you know how... you CAN coach your people to exceptional performance.
Coaching might seem such a minor thing, but when you do it well you will see amazing results.
If you have been doing some coaching and haven't seen these sorts of enviable results, you may be missing just one of the essential steps for effective coaching. It's not that coaching is difficult, but it does have to be done properly.
In this new 'Just the Gist' Short Report I share with you exactly how to coach employees to improved performance in any skill.
No fluff. No filler. Just the key things you need to know and do to succeed...
If you are constantly frustrated by individuals that you know could do better, but who just don't seem to follow-through on the tasks that are assigned to them...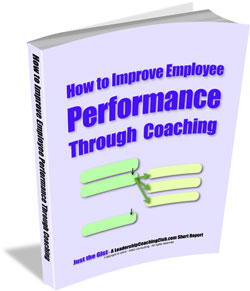 If you are limited in who you can delegate projects to by a lack of skills in your team members...
If you end up having to do things yourself that you know you should be able to delegate to others on your team...
If some of your people are struggling to cope with inevitable but difficult and challenging changes or even showing signs of deliberate resistance...
If you are frustrated trying to get every member of your team to perform to your required standard ... let alone well...
If you believe you would get more out of your employees if you could encourage and support them better...
You need to read How to Improve Employee Performance Through Coaching
Discover the simple 3 step coaching system that will enable you to:
Build workplace motivation, increase skills and get maximum performance from all members of your team
Approach coaching even problem individuals with confidence that you will see the outcomes you expect
Ensure maximum impact from every coaching session by following these three essential steps - including one that even experienced leaders can be tempted to skip with undesirable consequences
Avoid wasting your time and energy trying to coach where it was never going to work as well as a different approach, by knowing in advance how to recognize the situation
Take the effort out of preparation by being absolutely clear about what you need to do to coach effectively - and the traps you need to avoid. It's easy when you know how!
Apply the crucial secret to ensuring your coaching actually takes root and improved performance is maintained and enhanced over time
See your best results when you apply these six critical tips for success that I share with you
Avoid having all your good work evaporate over time when you do this one simple thing, after your coaching session
Avoid losing control of the situation when your coaching isn't working
Gain recognition for your ability to build and manage your team to deliver consistent results through powerful contributions from everyone on your team
Earn the respect of those who report to you - AND those you answer to - for the exceptional results you repeatedly deliver
Can you imagine what things would be like if every single one of your employees consistently functioned at their full potential?
What results would your team be able to produce?
How much easier would your job be?
How good would your reputation as a team leader be?
How to Improve Employee Performance Through Coaching can show you how...
Comments from Others

This is not our first 'Just the Gist' Short Report. See some comments about earlier reports:

"It was what I wanted, common sense ideas in
a short document with a checklist."
Craig Waldon , General Manager

"What I have read and used has been great. The real challenge is to make the time to put [ideas] into action. Certainly the shorter and more concisely the material is presented, the better. Also having practical tips and 'how-to' information is the most helpful for me."
David Beard
What's included:

Instant delivery: Your Short 'Just the Gist' Report for Leaders and Managers on How to Improve Employee Performance Through Coaching is available as a downloadable pdf file, immediately your payment is completed, so you can read it on any computer system or print it out for convenience.

How to make it work: Your Report includes a Coaching Assessment and Action Sheet for use when you apply the key ideas in your own situation.
Plus Order Today and Receive These Bonuses:

Free Bonus Worksheet: Ensure your success with our Ten Step 'Never-fail' Coaching Preparation Checklist

Free Updates for Life: Buy now and register your purchase to receive any future updated versions at no extra cost.
Get it now at this special price
Only $US 17

Yes! I want to discover How to Coach Employees to Improved Performance at this amazing low price right now!

Ready Right Now! I know this product is a digital download that I can access immediately after I purchase - wherever I am located and whatever time of day - or night!





Secure credit card payments made through PayPal
Get it now. You could be seeing improved performance in no time at all with the powerful secrets in this short report.
"Your No-Nonsense Iron-clad Money-back Guarantee"
You can buy in complete confidence.

You are fully protected by our 30-day iron-clad money-back guarantee.
Your purchase comes with a minimum, unconditional 30 day guarantee. If you have any problems or you are dissatisfied for any reason, simply contact me at our Help Desk and request a refund. We will cheerfully replace your order or refund your money - which ever you prefer.
You Just Can't Lose With Our Simple Risk Free Guarantee.
The risk is all mine. Could anything be fairer than that?

PS:
Remember, your purchase is backed by our 100% guarantee, so you have nothing to lose and everything to gain when you order today!
PPS: If you are looking for a long learned tome on the theory of coaching, this isn't the book for you. What you will get in your short report on How to Improve Employee Performance Through Coaching is practical and proven information that you can apply immediately.
If you need better results from anyone on your team, please grab this opportunity right now.
Act Now!
You can order in complete confidence.