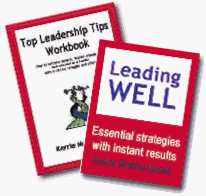 May we send you a free copy of our Leadership Resources Pack including:
Top Leadership Tips Workbook
a bonus free report on Setting Goals and
copies of Leading Well as they are available.
We will also keep you up-to-date when new leadership courses and resources are available.
Complete this form to get them all now. Please fill in your email address carefully as the download link for your free eBooks will be sent to that email address.
Please take care to enter your email address correctly or you may not receive the information you have requested. Your information will be sent to you at this email address.

We respect your privacy.
When you give us your email address we will use it to send you the information you requested and to keep in touch with you occasionally. We don't send spam or sell your details and you can unsubscribe at any time (although we're sure you won't want to). Should you ever have any concerns or queries please contact us and we will reply to you personally.
Kind regards, Kerrie Mullins-Gunst
Founder of the Leadership Skill Center
and KMG Consulting
Read previous issues of Leading Well
Read previous articles from Leading Well as well as many other articles and useful information, plus all the latest news, at our blog by clicking here.
You can access more free resources, as well as all our online courses and programs, in the Members Area by clicking here.