First, a big thank you to everyone who has already taken our very quick survey, to help me decide which of all the projects I have in various stages of completion would be most helpful to you.
( It's not too late if you haven't done it yet! Here's the link:
http://yourquicksurvey.com/2/index.php?sid=1 And it really is just one question! )
To everyone who emailed me saying you wanted them all … I promise we will work on several of them, not just the top one!
In fact we have already been hard at work. So watch out for an email very soon when I expect to be able to announce that one of the top three – as voted by you – is available. I'll try to organize a special offer to celebrate (but only for the quick movers… so don't miss out.)
I hope you enjoy today's article.
Kind regards, Kerrie
———–
ARE YOU BECOMING A LEADER?
———–
Recently I came across the phrase that 'Leadership is a process of becoming'.
The author was making the point that, although certain people seem to be born with innate leadership qualities, without the right environment, education and exposure, they may fail to develop their full potential.
It seemed an important point, and totally consistent with what I have observed as I have trained and coached literally hundreds of good leaders over the years.
The very best leaders I have worked with are always in the process of becoming:
* of becoming the best they can be
* of becoming worthy of their role
* of becoming more insightful
* of becoming better listeners
* of becoming better skilled…
In other words, the very best leaders are constantly striving and becoming even better leaders – regardless of their existing level of skill or experience.
So, you can always be learning and becoming a better leader by honing your leadership abilities.
There are two primary ways you can become better at leadership.
First, you can gain knowledge of leadership theories and skills formally by attending leadership seminars, workshops, and conferences, or by working one-on-one with a coach or mentor. (As you know, we help lots of you with this way of becoming a leader.)
Second, your daily interactions with people provide an opportunity to observe other leaders informally and to practice your leadership with others – becoming a leader in the way you work.
Together, formal and informal learning will help you gain leadership attitudes, and leadership insights, and thus further your cycle of learning. Both will help you in the life-long process of becoming a leader.
You do not become a leader one day and just stop. An unending commitment to life-long learning lies at the core of becoming a true leader.
———–
QUOTE OF NOTE
"Whatever you are, be a good one." Abraham Lincoln (1809-1865)
———–
FEATURED PRODUCT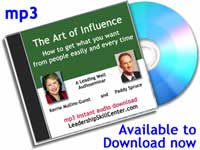 The Art of Influence – How to get what you want from people easily and every time.
Kerrie Mullins-Gunst interviews Paddy Spruce, Australia's influencing skills expert. Download it now and listen immediately on your iPod or mp3 player – see http://leadershipskillcenter.com/ts/ps/index.html
———–
PS. Don't forget to watch your email for an announcement about the first product to be released after your votes – coming soon – and with a special offer, just for those who act quickly!
And if you haven't voted yet here's the link again:
http://yourquicksurvey.com/2/index.php?sid=1